Resin shower trays are quickly taking over from the porcelain and acrylic trays. Do you want to know why this is happening? Read this article to get to know all about resin shower trays.
Resin shower trays are made of a mixture of resins and mineral pressings and are more resistant than acrylic and fiberglass. In addition, they are made of a waterproof material and there is a possibility to choose between different texture styles such as slate, limestone, natural stone… For the manufacturers, like us, this allows us to make extra slim and very large shower trays.
Now we know about their composition, you must know that not all resin shower trays are the same and each has different characteristics so let's get to the point.
1 – More rigid
They are characterized by being one solid piece, in most cases, providing a feeling of solidness like only porcelain trays offered. Most other shower trays often give a sense of instability and fragility, unlike the resin alternative.
2 – Warmth
A luxury for the winter! The component materials of the shower cause a warm and pleasant sensation when stepping in, usually bare footed!
3 – Made to fit
We always make shower trays to fit your requirements, depending on the space you have available in the bathroom. It will be very useful especially for small bathrooms. Also, it achieves a complete flat surface over the entire shower tray, so when installing a shower screen, you avoid having to add additional levelling supplements.
4 – Non-slip surface
Forget about all the slips and slides! Resin shower trays have the highest score on safety, the surfaces can be made rough or smooth, but they all have an anti-slip treatment, normally certified as Class 1, fully appropriate for any use, and even grade 2 certifications, which are well above the score obtained by other shower trays.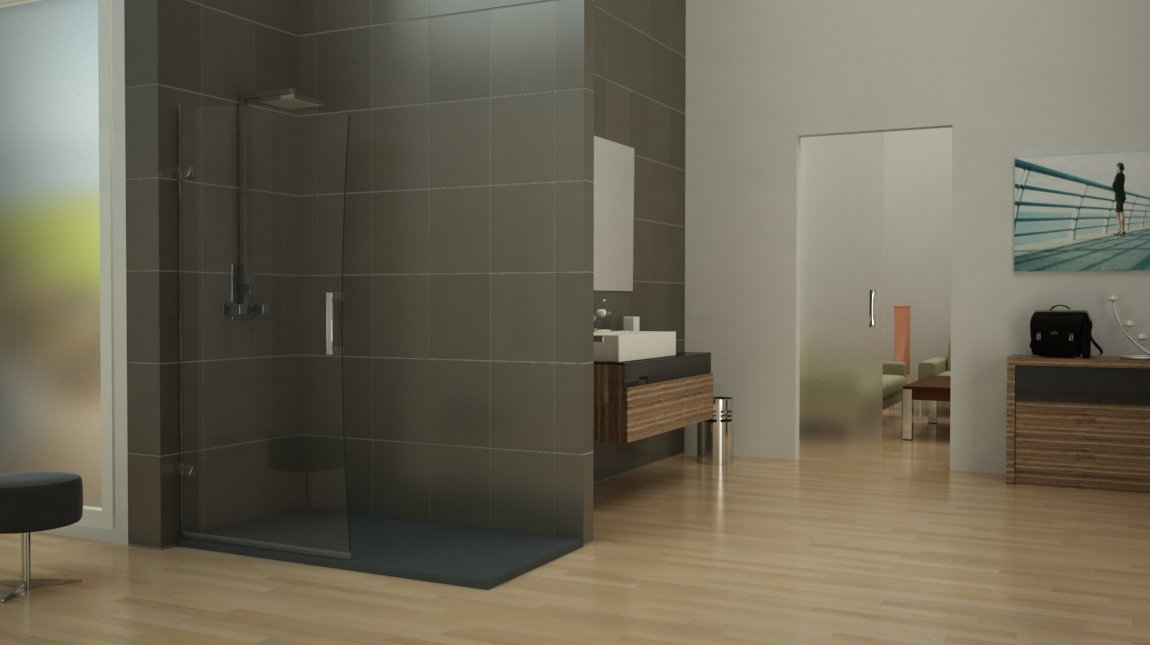 5 – Easy installation
The most distinctive point of resin shower trays is that they already come with perfectly defined slopes. The person responsible for the installation only has to worry about perfectly levelling the tray so is its flat. Ensuring great results and without the water drainage problems. Now it does not take an expert to install this kind of shower trays. You can take a look at our instructions of how to change a shower.
6 – Totally waterproof
The materials used in the shower trays are, new completely waterproof materials. This represents an important advantage over built in shower trays that use materials such as tiles and others, in this case the waterproof protection is often provided by applyable coats, such as roofing felt. In these cases, the water tight effect can only be guaranteed if the installation has been done by a professional.
Remember that it also depends on the correct sealing of the joints. In the case of resin shower trays, as we can manufacture them to your measurements, you can create a seamless shower space so the seal is fully guaranteed.
7 – Easy to clean
Tolerance to different cleaning chemicals depends on the materials used in the manufacture of each model, but generally the level of resistance to the chemicals is very high.
 8 – Low height, easy accessibility and top safety
These 3 factors are responsible for encouraging many people to replace the bathtub for a resin shower. They are more comfortable with no steps or walls and free movement within it.
9 – Excellent price / quality
Another reason for the success of this type of shower tray, is that, although they are more expensive than other compound trays made of other materials, the product is worth it because it is forever!
A shower tray for a lifetime!
Besides having a much higher quality than the rest of the shower trays, it also allows us to add an aesthetic touch, an element of great impact in a bathroom.
Currently, we offer a variety of designs of classic colours like white, beige or black but there are also a wide range of contemporary colours. Another possibility is to choose between different textures such as stone, slate, smooth finish, among others. In addition, there are also decorative designs as diverse as zebras, circles, lines, boxes or any other pattern that we can think of.
The most important thing is that, even if you choose the design you like, the quality will still be the same, all 10 points you just read, guaranteed.
We would like you to know that at Mundilite, we have made a ramp for this type of tray for easy access for those who need it. We know that everyone has different needs.