As you know, there is never a second chance for a first impression. When your bathroom is small, it's normal to encounter problems finding suitable furniture for it, right? Do not panic, we are here to help you!
Also at Mundilite we will show you the best tips and tricks to help you get the most out of your bathroom and make it look bigger.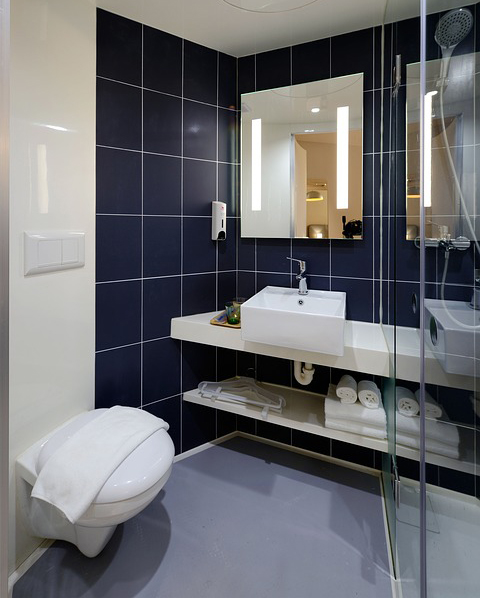 Plan carefully
In large bathrooms, there aren't any problems, because there is space for everything, but in a small bathroom we need to know your priorities.
For this type of bathroom we need a shower that breaks the visual continuity. Another option is one that maximizes the space, a ST- angular or classic shower tray with a screen that provides the feeling of spaciousness.
The suspended sink
A suspended sink is less cluttering, and takes up less space than the traditional sinks. With a nice minimalist design, like the Sigma and Epsilon models, they will increase visual space.
You also have the Delta sink option with a small cupboard to store things, helping to hide products. This option has a few advantages, cleaning is much easier and as it does not occupy space on the floor, also making the bathroom looks wider.
The Colours
White, beige, ivory, pearl grey are neutral colours that bring light. If you have a small bathroom playing with these colours is a great solution. They also help give a sense of spaciousness, reflecting off mirrors, glass and metal surfaces. You can learn more about how to choose the colours of your bathroom.
Use every corner
If the ceiling is high, place shelves above the door, do not forget towel warmer radiators, they will save a nice area of space, if you have a cupboard you can add a couple of shelves for towels inside, making that cupboard a little more effective. Think and be creative, sometimes there is a potential space saver just waiting to be found!
Necessary complements
If you add a mirror, it increases the feeling of space and will help to enlarge the room and give brightness. In addition, to avoid towels interfering with the light, you can hang them behind the door with hooks or a folding towel rack.
Choosing a style
The best bathrooms designs; Zen-style, minimalist, contemporary and Scandinavian.
If you want to create a feeling of spaciousness choose the same tiles for the walls and floor. You can choose a large tile or elongated slats, if chosen correctly very small tiles can create a spectacular effect. Otherwise, we advise you to use special paint for bathrooms (except in the shower). It provides a clean and homogeneous appearance resulting in making it look bigger.
Finally, last but not least, from Mundilite we want to help even more. In case you are not going to re-plan your bathroom, but you want to change and renew it, watch the video, to help with storage issues and the distribution of the furniture you need in the bathroom.
https://www.mundilite.com/wp-content/uploads/2016/07/baño-en-suspension-1.jpg
598
480
mundiadmin
https://www.mundilite.com/wp-content/uploads/2016/02/logo-azul.png
mundiadmin
2016-07-13 11:07:59
2016-11-10 16:42:21
Saving space in small bathrooms